About Me
Hi! Glad you're here! Here's a bit about me: 




I married a

Musician With A Day Job

from Glasgow, Scotland, in 1990. We have two sons, one daughter, five dogs, one tarantula, and some project always in the works! I am a 

Rescue Transporter

and Animal Welfare Advocate. I'm also a lover all things photography, vintage, retro, DIY, decor, design, sewing, furniture refinishing, upcycling, & repurposing. My hobbies include technology, music, video games, and I particularly adore old movies (especially silent and classic horror movies).




Together with The Hubs and our friend,

Jay Swisher

, we created our business, Shona Skye Creative. We offer photography services and products including portrait photography, corporate photography, jewelry, music, unique one-of-a-link Cosplay props, and decor. We sell our items and services online, at faires and festivals, and by word of mouth. We hope you'll share us!




If you would like to know some more weird facts about me (because I *am* weird), click

HERE

.




If you ever have a question or need to contact me, don't even hesitate! Just click

HERE

.




And, BTW, I adore comments and I respond to each and everyone - by E-Mail! So, if you are a NO-REPLY commenter, check out

THIS LINK

to fix that, so I can chat with you!
View my complete profile

What I'm Pinning

Shona Skye Creative
by
Kristy M Creighton
is licensed under a
Creative Commons Attribution-NonCommercial-NoDerivs 3.0 Unported License
.
Based on a work at
http://www.shonaskye.com
by
Kristy M Creighton


4/07/2015
at 11:48 AM
|
By:

Kristy Creighton
12/31/2014
at 2:05 PM
|
By:

Kristy Creighton
I feel that niggling sentimentality sniffing at my edges again. It comes whenever there's a true Turning of the Page, and a new year is certainly that. It's possibly mental... Today is just a Wednesday, tomorrow just a Thursday, etc, and any day is a good day for change. It doesn't have to be a seminal day to make a new start. It's just a Wednesday, but it *is the last one of this year. So, I'll indulge just a bit.
6/23/2014
at 3:48 PM
|
By:

Kristy Creighton
Yikes! LLCs, DBAs, operating agreements, price lists, print releases, biz cards - this is starting to look like
real
work! But, it's exciting and fun, too! Eager to get the new micro-biz venture off the ground with my new
partner!
(And find out all the movies I've missed with my movie reviewer while I've been
busy
! Lol)

Can a self-described hippie chick earn an income? Stay tuned! ;)
2/06/2013
at 12:12 AM
|
By:

Kristy Creighton
OK, I stink at wordless. I just do. I have too much to say. LOL
But, while I was out thrifting this weekend, I ran across this sign. I find all kinds of life lessons thifting, to be honest. Sometimes, it's lessons like, "I have that exact [insert item here] at home, but obviously it's junk." Or, "Be careful what you send to the thrift store, or someone may be making a judgment call on you." (I usually get that one when I'm looking at some incredibly ugly piece of junk and wondering who in the heck had that in their home up until recently.)
This was this week's lesson:
Ain't that the truth?
1/21/2013
at 12:03 AM
|
By:

Kristy Creighton
This is going to be a long post, but it's important. Why? Because bullying is big news right now, both in my community and in the world today. Don't believe me?
A local school district is dealing with a bullying incident involving a reference to the Newtown shooter and Instagram.
A school shooting in California seems to have been triggered by bullying.
Just last week, a little ten-year-old girl committed suicide because of bullying.
A local mom/blogger I follow had to take her daughter's case of bullying to the local news.
A friend of my daughter's is the victim of an on-going bullying campaign by a classmate.
Even my own daughter, who is successful, well-liked, and self-confident, and actually is not your normal victim-type, was the target of someone creating a porn account in her name.
Believe me, there is nothing like dealing with a situation like that head-on and in real life to learn all the ins and outs real quick. But, I'm going to share it with you - with her permission - so you can be aware and proactive.
Bullying is everywhere. And this is my daughter's story.
1/07/2013
at 1:19 PM
|
By:

Kristy Creighton
Hi, my darlings!! This is the last day (hopefully), I'm going to be flat-out behind on my posts. LOL I'm slowly but surely getting caught up after being out-of-commission for two weeks, but with the start of the new year, I'm also just slammed with all kinds of real life stuff clamoring for my attention. It's been tough finding the time to get caught up!
That being said, I managed to squeeze in all my thrift stores this weekend, but it was SLIM PICKINS! OMG!
12/17/2012
at 12:18 AM
|
By:

Kristy Creighton
(I would love for you to come back to visit, so please SUBSCRIBE using one of the buttons I have up there at the top on the right. And be sure to find me on Facebook for behind the scenes stuff and general goofiness. I'm on Twitter, too, but be warned - I have been known to accidentally tweet-bomb during baseball seasonl!
)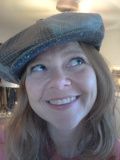 12/13/2012
at 11:04 AM
|
By:

Kristy Creighton
I'll admit it. I haven't had the Christmas spirit so far this year. I have my decorations up. I have Christmas shopping lists at the ready. I have picked up a few gifts. But, the feeling of the season has eluded me completely. I've been faking it for my family and blogging very little Christmas-related content, because I can't fake it in my writing.
And, then Nora, a very dear Facebook friend of mine, shared THIS ARTICLE about a movement underway in honor of a very special little Angel in Heaven, Jayden Lamb.
I dare you to read that article without getting tears in your eyes, a lump in your throat, and joy in your heart.
12/04/2012
at 9:53 AM
|
By:

Kristy Creighton
Hey, gang! I'm so behind today and I'm not likely to catch up. I'm still finishing up making the bedroom livable again and I last night, I decided to hit my trash pile (yes, my trash pile) and rescue an old deck board to make a little sumthin-sumthin that I'll be posting later this week! Yes, when I dumpster-dive, I really dumpster-dive.
11/30/2012
at 8:30 PM
|
By:

Kristy Creighton
Hi, beautifuls!! Whatcha doin'? It's Friday and I'm bored. So, this will probably be a long, chatty post! LOL
Some of it you might remember some of these from my Liebster Blog Award post awhile ago. But, I've been lucky enough to get several new followers recently and
I thought I would just throw this up to anyone who is curious about Who I Am and what makes me tick. I love to read other bloggers' personal posts and I haven't done too many of those. Soooo, I thought I would share some warts-and-all facts about yours truly! If nothing else, my kids can show it to my grandkids someday.
Anyhoo, if you have nothing better to do, grab a glass of wine or a cup of coffee and let's chat!
11/22/2012
at 8:00 AM
|
By:

Kristy Creighton
Happy Thanksgiving! I hope you and yours are having a wonderful day, filled with family, stuffing, laughter, turkey, stories, pictures, and pumpkin pie! I hope you don't blow the buttons off your pants and I hope that your cleanup time in minimal.
I want to take a second, though, and share with you what I'm really thankful for. I'm thankful for them all the time, 24/7/365, but, like most of us, I don't say it enough. But, now I have a blog, and so they can't get all shy and stuff. So, here goes...
11/07/2012
at 10:02 AM
|
By:

Kristy Creighton

I don't do politics on this blog. Don't get me wrong. I love a good political debate and I'm pretty active, politically, too. But, normally, this blog is about my other passions. However, I have a couple of things to say to what I've seen in my social media this morning, so I'm making an exception. 


1/18/2012
at 8:33 AM
|
By:

Kristy Creighton
It never fails. You finally decide to get a project going and, suddenly, you are inundated with a thousand things that seem to appear out of nowhere and need to be done right now!
I'm squeezing in time today to get a post ready for the blog today, regardless. I work freelance and have several jobs suddenly due all at once. But this blog is important to me too. If it gets shoved to the side to make room for everything else, it can't grow and I don't create.
So my work will get done, but I have to remember to make this new venture important too.
How do you manage your time to make sure that your projects and interests aren't lost in the shuffle?
Popular Posts