About Me
Hi! Glad you're here! Here's a bit about me: 




I married a

Musician With A Day Job

from Glasgow, Scotland, in 1990. We have two sons, one daughter, five dogs, one tarantula, and some project always in the works! I am a 

Rescue Transporter

and Animal Welfare Advocate. I'm also a lover all things photography, vintage, retro, DIY, decor, design, sewing, furniture refinishing, upcycling, & repurposing. My hobbies include technology, music, video games, and I particularly adore old movies (especially silent and classic horror movies).




Together with The Hubs and our friend,

Jay Swisher

, we created our business, Shona Skye Creative. We offer photography services and products including portrait photography, corporate photography, jewelry, music, unique one-of-a-link Cosplay props, and decor. We sell our items and services online, at faires and festivals, and by word of mouth. We hope you'll share us!




If you would like to know some more weird facts about me (because I *am* weird), click

HERE

.




If you ever have a question or need to contact me, don't even hesitate! Just click

HERE

.




And, BTW, I adore comments and I respond to each and everyone - by E-Mail! So, if you are a NO-REPLY commenter, check out

THIS LINK

to fix that, so I can chat with you!
View my complete profile

What I'm Pinning

Shona Skye Creative
by
Kristy M Creighton
is licensed under a
Creative Commons Attribution-NonCommercial-NoDerivs 3.0 Unported License
.
Based on a work at
http://www.shonaskye.com
by
Kristy M Creighton


1/01/2015
at 6:20 AM
|
By:

Kristy Creighton
12/31/2014
at 2:05 PM
|
By:

Kristy Creighton
I feel that niggling sentimentality sniffing at my edges again. It comes whenever there's a true Turning of the Page, and a new year is certainly that. It's possibly mental... Today is just a Wednesday, tomorrow just a Thursday, etc, and any day is a good day for change. It doesn't have to be a seminal day to make a new start. It's just a Wednesday, but it *is the last one of this year. So, I'll indulge just a bit.
12/06/2012
at 1:08 PM
|
By:

Kristy Creighton
Hi, y'all!! I'm so glad you are here! This is the post I shared on Sugar Bee Crafts last week, but I wanted to share it here, too, in case you missed the guest post (like I did! LOL) And, honestly, this is too good not to share!
11/29/2012
at 12:03 AM
|
By:

Kristy Creighton
Hey, there, sunshines!! As we scoot into our last days of November, I don't know about you, but I am finding Christmas coming at me like a runaway freight train!
If you are like me, you are almost always
broke,
er,
on a budget
, yet you still want to give presents to just about everyone you run into on the street, like a drunken, reformed Ebenezer Scrooge. Of course, not being a lottery winner myself (and if you are a lottery winner, you still want to read this post, because I'm just awesome like that), that can be a pretty tough order.
For me, the fun of Christmas is really in choosing and giving presents. I keep a running wishlist for myself and I've heard that I ruin everyone else's plans by getting myself what I want or need throughout the year as money permits. LOL I hate the thought of someone fretting over what to get me, but I adore fretting over what to get everyone else! So, I want to share with you one of my favorite gifts to give - one that combines the feel of something handmade and personal with the ease of store-bought, all on a thrifty budget!
11/21/2012
at 8:00 AM
|
By:

Kristy Creighton
Thanksgiving, in our extended family, is my holiday. My mother-in-law does Christmas. My sister-in-law does Easter. But I do Thanksgiving. I have recipes that date back to my great-grandmother. Everything is from scratch. The table is set. The décor is fall. I would shoot for House Beautiful magazine layout perfection every year. I'd fail miserably, but I'd shoot for it!
Yeah, my table never looks like that, except in my head. LOL
10/09/2012
at 7:02 AM
|
By:

Kristy Creighton
Hey, friends! I'm in the best mood!! Why? Because it's October and October means HALLOWEEN! The scarier, the better!
I'm going to level with you all - we are a rather twisted family. I can promise you, we have more in common with the Addams Family than The Cleavers. If we were left to our own devices (and wouldn't draw complete

ostracization from our neighbors and end up having warrants put out on us by code enforcement officers), we would probably live in a "haunted house" all year 'round. Since I can't, and since I don't have unlimited funds to spend, let me show you what we do and how we do it cheap!
5/28/2012
at 11:32 AM
|
By:

Kristy Creighton
(I would love for you to come back to visit, so please SUBSCRIBE using Linky Friends or one of the other buttons I have up there at the top on the right. And find me on Facebook and Twitter, as well!
)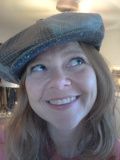 ** Click HERE
to see where I PARTY!**
Popular Posts