(Ugh! I did it again! Had this all set up but forgot to schedule it! I was in an all-day seminar and certification testing yesterday, ended up with a pounding headache, and
The Hubs
very sweetly decided to take me out to dinner when he got home. All my norms were disregarded. LOL Sorry about that!)
During our three days of rain over the weekend,
The Hubs
and I decided to run some errands and I took the camera along just to see what I could see. Well, I saw this cute little wall mural on the side of a bank in the Grove neighborhood! Looked like a good subject for black and white to me!
It's a pretty vivid mural, but just really popped in black and white! I saw a ton of cool murals in The Grove neighborhood. I think I need to wait for a sunny day and go for a walk down there!

Thanks for stopping by today!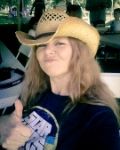 (I would love for you to come back to visit, so please SUBSCRIBE using one of the buttons I have up there at the top on the left. And be sure to find me on Facebook for behind the scenes stuff and general goofiness. I'm on Twitter, too, but be warned - I have been known to accidentally tweet-bomb during baseball season!)