The Hubster was off this past Thursday and Friday and he decided to surprise me! You will have to either guess what he surprised me with or wait until the end of this post, but I will say this - his surprise, while totally awesome, presented me with a decorating challenge. The upside of getting hit with a new decorating challenge is, of course, having new blog post fodder, right? And, so, voila!
I hope this looks a little vintage and a little gypsy all rolled up into one. I used a few of the items I found Goodwill Hunting here, as you can see.
Now, you might be wondering what caused said design challenge. LOL In fact, if I did a good enough job, you should be asking that. Here it is:
Being the baseball fanatic that I am, The Hubster went out and got me a 19" HD LCD flatscreen TV for our bedroom!! OMG, I am SO happy! It's quite the upgrade from the ancient three-ton 19" TV that had one green corner on the screen and was positioned up on top of our chifferobe! However, our dresser is at the foot of our sleigh bed, and I didn't want to see the back of the TV every time I walked into the bedroom!
So this was my solution. I think I love it. I think it really reflects the feel that I want for the Master Bedroom Makeover I'm in the midst of.
What do you think? And thank you for bearing with my experimental photography! I love playing with white balance! ;)
(I would love for you to come back to visit, so please SUBSCRIBE using one of the buttons I have up there at the top on the right. And be sure to find me on Facebook and Twitter, as well!
)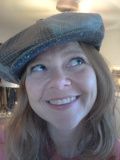 **Sharing With These Awesome Parties
**
MONDAY: