I was dang near incommunicado yesterday, but I still spent most of the day at the computer. Ugh.
So, yesterday morning, I wrote up a great little post about our near-disastrous weekend - did nothing different than I ever have before - hit Publish, and went to share it to my Facebook page and suddenly, none of my pictures in the post would show up for thumbnails. Instead, I got this:
Now, don't get me wrong! Craft-O-Maniac is an awesome blog that I follow and I love to enter her weekly link party. But, that was the only picture that would show up for my blog post about my daughter and the Almost Ruined Most Important Weekend Ever In The History Of The World.
Everything else is working fine, with one exception. With InLinkz link parties, they aren't finding the pictures in the blog either. The other Linky Party tools are finding them fine. But Facebook and InLinkz have decided they hate me.
So I spent all day trying to fix this - which is pretty funny. The few fixes I found all involved metatags and HTML code. I'm not computer illiterate, but I'm no programmer, either. I had nine different tabs open in front of me at one point!
I finally rolled everything back to a backup I had made before I did any changes, but that didn't help. I switched browsers. Nada. In my frustration, I almost forgot to post my post!
So the chances are I'm going to be a little quiet while I try to fix this. I'm OCD about stuff working right and I know it. But, I haven't gone anywhere. I'm probably just sitting on my hands while I try to keep from throwing my laptop out the window.
On the upside, though, I did figure out why I couldn't see Google Friend Connect on my other friends' blogs. I was using Firefox. Once I switched to either Internet Explorer or Google Chrome, BOOM! There it was! Who knew?
If any of my fellow bloggers or other tech-savvy readers out there have experienced this and know how to fix it, OMG, I would LOVE to hear from you!! I will try anything!
Otherwise, send me some good blogging vibes please. I'm running out of coffee and will probably soon have to turn to the wine...
(I would love for you to come back to visit, so please SUBSCRIBE using Linky Friends or one of the other buttons I have up there at the top on the right. And find me on Facebook and Twitter, as well!
)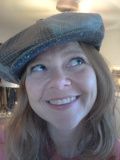 **Sharing With These Awesome Parties**
MONDAY: